Supporting Breastfeeding During COVID19
Supporting Breastfeeding During COVID19
A Q&A with Angie Bell, Infant Feeding Co-ordinator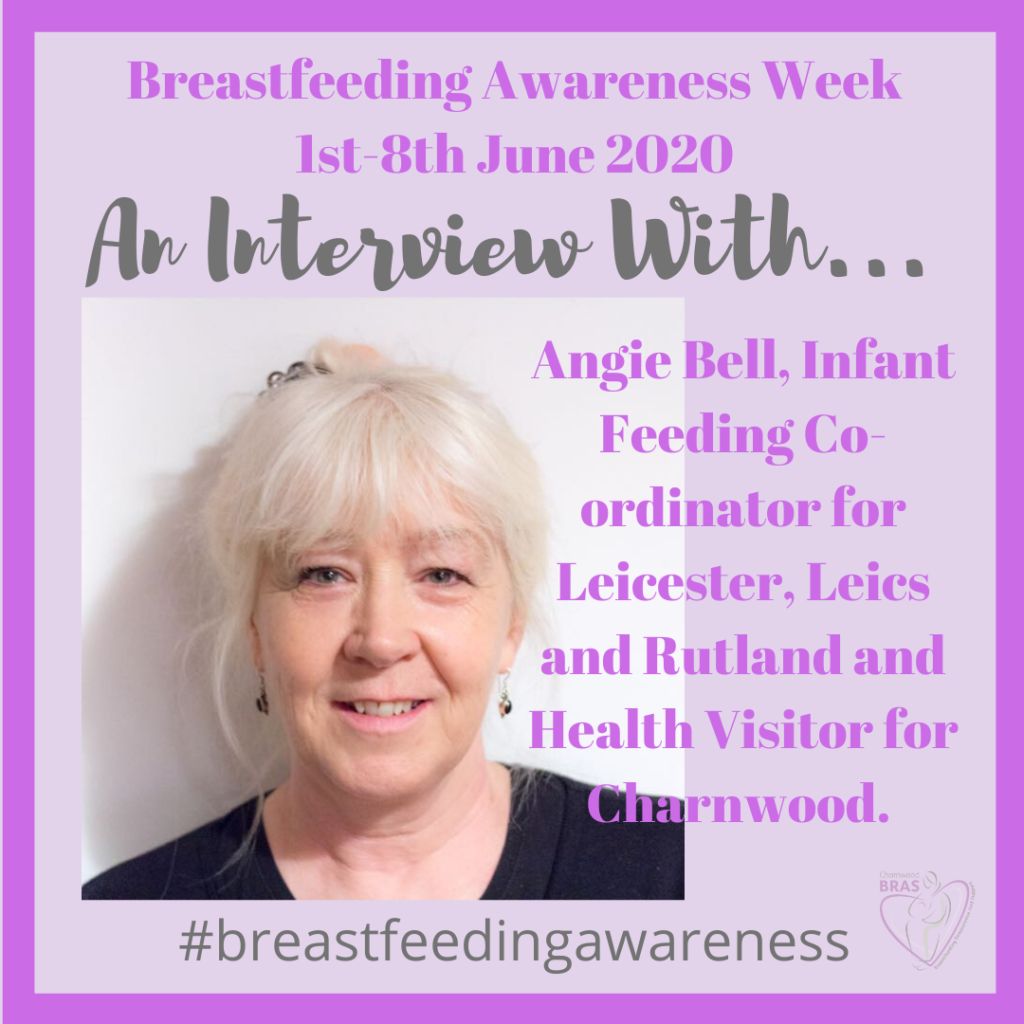 It's National Breastfeeding Celebration Week and as this year's theme is "Breastfeeding during COVID19", we thought we'd catch up with Angie Bell, one of our lovely Infant Feeding Co-ordinators for a chat about how Coronavirus has affected her day to day work.
Hi Angie, thanks for taking the time to talk to us! For people who don't know you, can you tell us a little more about what an Infant Feeding Co-ordinator does?
I'm part of a small community based, NHS team that works across the whole of Leicester, Leicestershire and Rutland. There are two coordinators and one Infant Feeding Lead, so when I said 'small' I meant it. We all have a Health visiting background so I guess you'd say we were Specialist Public Health Nurses for infant feeding. Our role is very varied. We teach all the HV team members and children centre staff, have done training for dieticians, GPs and managers too. Our goal is to share our expertise around breast and formula feeding so good practice is widespread. We train and manage eight groups of our wonderful breastfeeding peer supporters across Leicestershire and Rutland, Charnwood BRAS being one of our flagship groups. We run study days and conferences, lecturing on all things infant feeding related, we collect data to prove our worth and so hopefully maintain our presence. Most importantly we staff three specialist clinics a week across the county (pre-COVID) where we try to help with particularly complicated feeding issues and support women to have a successful breastfeeding journey. We steered the county to become and maintain the UNICEF Baby Friendly award, a huge achievement that shouts out loud and clear that Leicestershire Partnership Trust believes in the importance of breastfeeding. So pretty busy really.
Previously a lot of breastfeeding support was done face to face, how have you managed to work around this during this time?
Oh my goodness. It's been a challenge. But we have all risen to it. Obviously all our staff training has stopped. Pre COVID our breastfeeding support was often quite intimate work, obviously, this can't be done now. Social distancing, full PPE and rules around limited visit times have made this extremely hard. Most of our work is now over the phone and via virtual contact, women are sending us videos and stills of their baby's mouths for example for us to try and diagnose possible tongue-tie or poor attachment. The calls are regularly over an hour so pretty exhausting for us and the Mums I'm sure. We always send a follow-up email with further information and links to useful clips. It's a new skill and I take my hat off you guys who have been offering breastfeeding advice and support over the phone for years. We're so lucky to have you.
Have many other things changed for your work during the pandemic?
Yes, pre COVID we were basically a brief intervention service. Generally, we saw people in our clinics and then handed them back to the health visiting teams. Now we are having to do lots more follow up calls. The HV service has been depleted through sickness, quarantine and redeployment, they too are doing most contacts via the phone so are really hard-pressed. More often now we are keeping in contact with families to try and support their breastfeeding journeys for as long as they want.
There are lots of anecdotal stories about how in some ways the pandemic and lockdown has been positive for breastfeeding rates. Some sources suggest mothers and parents are keener to breastfeed to pass on immune protection to their babies, others have suggested the break from visitors and other commitments after the baby arrives allows families to better establish feeding. Have you noticed any positive impacts?
Absolutely I have, I hear it all the time. That special 'babymoon' we all try to encourage has been possible. No visitors, no trips out, no judgemental comments, just protected time alone to get to know this new little soul, for siblings to bond and for feeding to get established. I have to tell you, some families are lapping it up! The downside is no actual contact with proud grandparents, sometimes having to give birth alone as partners are at home looking after the older children and of course no support from friends. For some women being locked down in small flats with no garden and problematic partners is a nightmare that's hard to imagine, so keep a virtual eye out, please. At the start of all this when formula was in short supply it must've been so frightening for those not breastfeeding. As for the protection – It's widely recognised that breastfeeding offers babies protection against many chest conditions and its lung maturing properties are well researched and documented. But now new research appears to have verified the presence of antibodies to COVID in the breast milk of women who have had the virus. How reassuring for those mothers to know they can pass that on to their babies. The positive effect of breastfeeding hormones on women's mental health is also valuable when life outside is so scary. Just getting across to women that any amount of breast milk can make a difference can be really helpful too. Women tell me the support they get from you guys and the knowledge that you are so easily available, is really comforting. Thank you so much.
For the BRAS our new Facebook group was set up in a hurry order to carry on supporting mothers and parents in a virtual group type environment but is something we will definitely be carrying on with after services open up, the response to it has been fantastic. Are there any new ways of working that you think you will continue with, once services open up again?
I think that's so great to hear that volunteers and Charnwood families have embraced these new platforms, well done and thank you again. For us, as a team, I think we will continue to have a weekly virtual meeting. We beaver away in different parts of the city and county, often not seeing each other for long periods, which isn't good. So I think that will stay. As for our wonderful breastfeeders, I can't say I won't be pleased to ditch the phone, my left ear will appreciate that! I'm really keen to get back to my face to face clinics but maybe we'll continue with some virtual contacts and the follow-up calls, they have proved to be really helpful I think.
If you had one wish for breastfeeding support in Charnwood once our services open up again, what would it be?
That's hard as there are lots of changes that could be made and new things introduced. We know that a relatively moderate rise in breastfeeding rates can equate to millions of pounds worth of savings to the NHS from the healthier population it produces, so any improvements made are worthwhile. But if I had to choose just one thing, I guess it would be a more locally based tongue-tie division service. Not all babies with a restricted tongue need a division as incredibly, some babies can feed around it. However, for some women, their journeys are cut short from severe nipple damage, pain, constant feeding, mastitis etc. These babies may benefit from surgically releasing the restriction. But it needs to be done quickly with no delay if successful feeding is to be achieved. A long delay when it's sometimes necessary to offer formula can be the death knell for breastfeeding. Pre COVID at best, women were waiting 3 weeks and sometimes up to 6-7 weeks and many had to travel over to the West Midlands. A local, fast service would really make a difference to our breastfeeding success rates. We currently have no NHS service for tongue-tie division during this pandemic and all three of us have met women who have had to stop direct feeding as a result. Some private practitioners are still working but their prices are often prohibitive.
What message would you send to any Mothers or Parents out there, struggling with feeding right now and wondering if there is still any help out there for them?
Well, I'd want to give them a virtual hug and say well done for even contemplating breastfeeding. Learn as much as possible before the baby comes, practice feeding positions with a baby doll, appreciate that it takes weeks to fully establish breastfeeding and give yourself that time to learn. Most of us have to practice lots and lots before we can master anything important. Talk with your partner about how you can work together to achieve this. And recognise that there is definitely help and support ready and waiting for you. From your hospital midwives and their Infant feeding team; St Mary's Unit out in Melton; your community midwives, health visiting teams; Chathealth text line; amazing peer support groups like you guys here in Charnwood, replicated in every corner of the city and our two counties. And lastly, support from us, your specialist community Infant Feeding Team. We all want to help you have a positive breastfeeding experience, however long or short that may be. And of course, there are lots of national and international online groups and organisations too, including the National Breastfeeding Helpline.
Thanks for taking the time to talk to us, we all know how busy you are!
You're welcome. It's been good to have the opportunity to tell people what we do. Happy Breastfeeding Awareness Week! If each of us tries to change just one person's negativity around breastfeeding we can really make a difference. Thank you.
Referrals to the infant feeding team can be made via a health professional or a peer supporter. Get in touch with the BRAS for a chat here.