Breastfeeding Friendly Cafes and Resturants
Breastfeeding Friendly Cafes and Resturants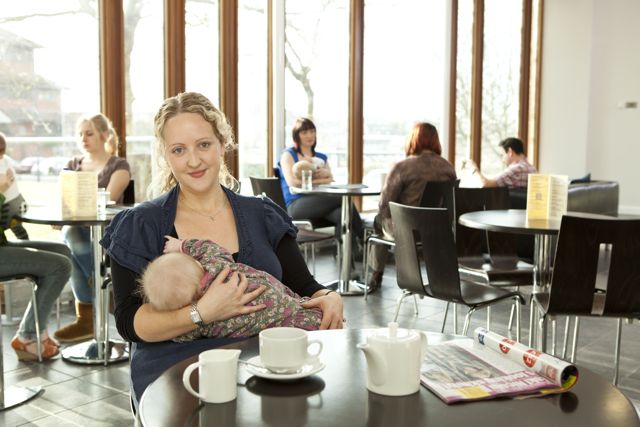 The Charnwood BRAS thought it would be useful to compile a list of cafes, restaurants' et cetra where breastfeeding was welcomed. Please note that not all establishments have been visited yet and the list below is not complete. We will update it as we visit more and more places.
A business cannot discriminate against mothers who are breastfeeding a child of any age. The Equality Act 2010 has specifically clarified that it is unlawful for a business to discriminate against a woman because she is breastfeeding a child.
A group of Charnwood BRAS Peer Supporters have visited some of the cafes around Loughborough, Barrow, Anstey and surrounding areas talking to café owners about breastfeeding. They asked whether breastfeeding was welcome in their café and whether they would like to have a "Welcome to Breastfeed Here" sticker to display. Those cafes that said they do welcome breastfeeding and received the sticker are detailed below.
Any café that were unsure received information about breastfeeding and the Equality Act 2010. Some cafes did not want to display the sticker.
Loughborough:
THE CAFÉ, Biggin Street
Mini Monsters, The Rushes
Costa Café, Market Place
Cinos, Carillion
Casa Café, Church gate
Wests, Market Street
Baobab, Market Street
Saints and Sinners, Market Street
Around Charnwood:
Pennys Cafe, Mountsorrel
Peppercorns, Bradgate Road, Anstey
Peppercorns, High Street, Barrow-upon-Soar
Nook Corner Coffee Shop, The Nook, Anstey
The Post Office Tea Rooms, Bradgate Road, Newtown Linford
The Crown Inn, Bradgate Road, Anstey
Cooky's Cafe, Stonehill Avenue, Birstall
Further afield:
John Lewis parent room, Highcross, Leicester
Ikea, (nursing area in corner of resturant) Nottingham